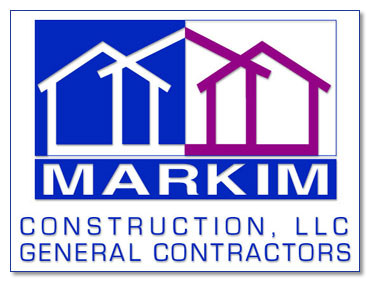 View of home exterior nearing completion.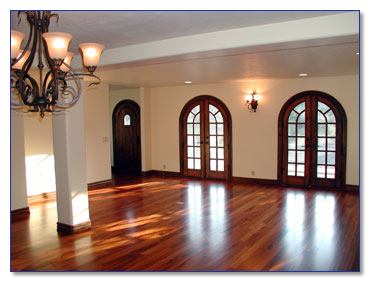 Living room with custom built alder wood archtop entry and double doors. Main and second level hardwood floors are three inch African Tigerwood.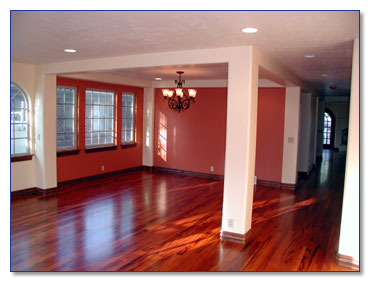 Formal dining area.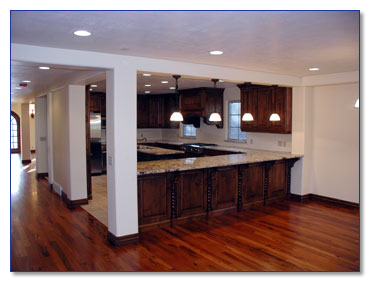 Kitchen.

Kitchen.

Kitchen.

Rangetop & hood with hand carved corbels.

Main floor family room.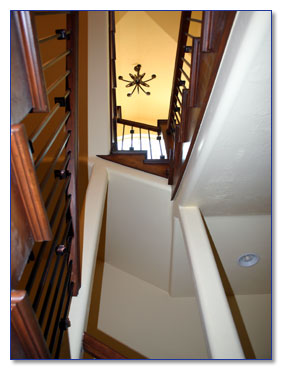 Stairway looking up from basement.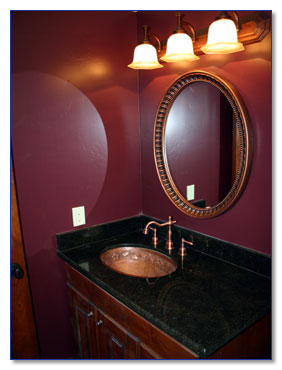 Basement bath.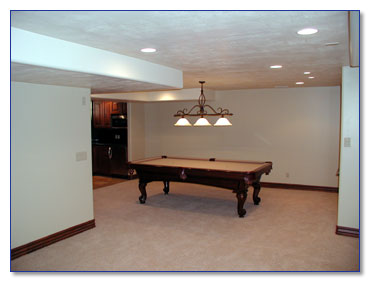 Basement pool table area with kitchenette in the background.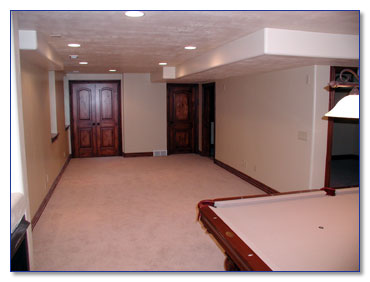 Basement home theater area .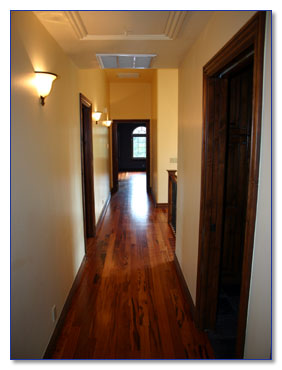 Second level hallway.

Childs bedroom.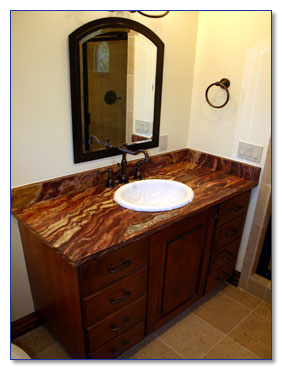 Childs bathroom with Serrenghetti Gold granite countertops.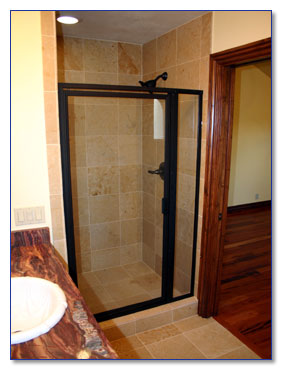 Childs travertine shower.

Second floor laundry with "pine" granite countertops.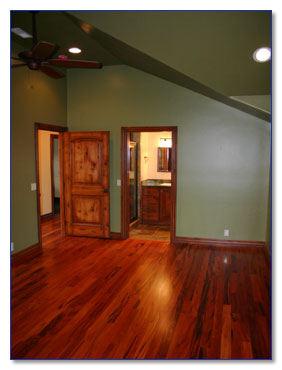 Childs bedroon.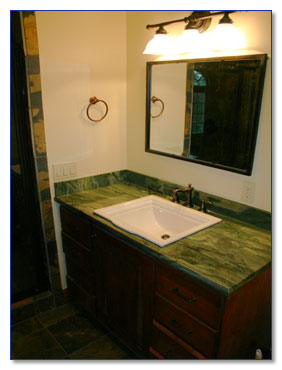 Childs bath with granite countertop and Kohler brand self-rimming sink.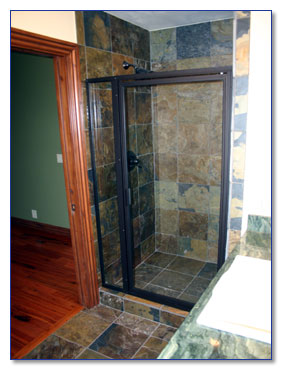 Shower in natural slate.

Master bedroom.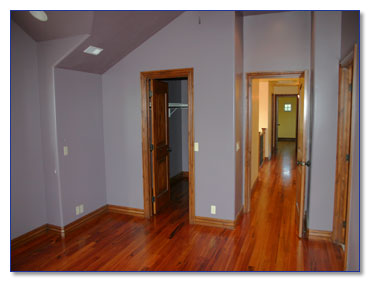 View of master bedroom towards hall & walk-in closet.

Master bath double vanity with Kohler brand undermount sinks .

View of master bath shower area and Jason air massage therapy tub.

Stucco is complete, walkway and parking areas have been poured, roof is nearing completion.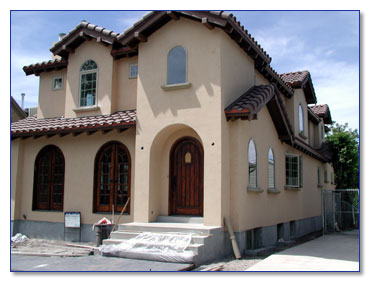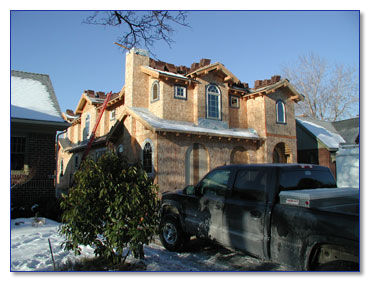 Framing is complete and the roof tiles are being installed.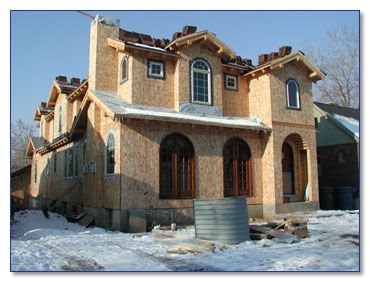 Hand made knotty alder true arch-top doors have been finished and installed. Rough electrical, heating, mechanical and tile prep are being completed inside.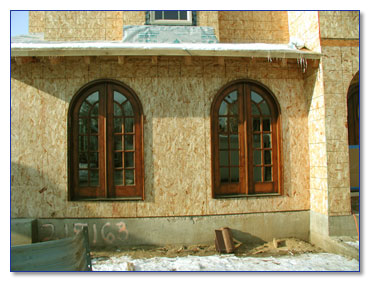 A closer look at the custom doors that were made to match those of the existing home prior to demolition.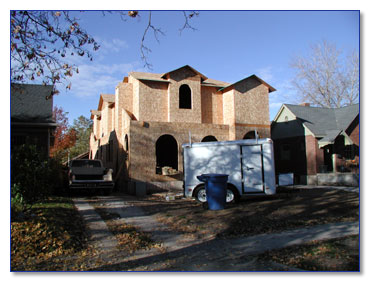 Framing.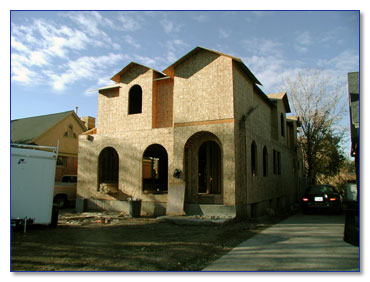 Framing.

View of the framing from the SE corner. The house is starting to take shape. Most of the homes we build are custom and the framing is quite complex. Many of the second floor roofs are hand framed to achieve the most dramatic rooflines and interior spaces possible.

View from the NE corner.

Interior framing view.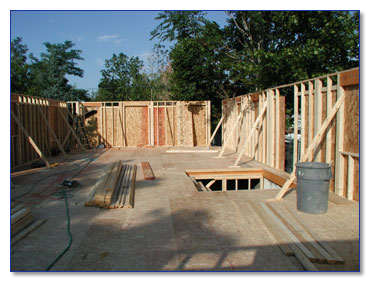 Floor reconstruction is complete, stairway to basement is in, main floor exterior walls are being constructed.

Framing continues on main floor.

Main floor framing view from the back of the home towards the front.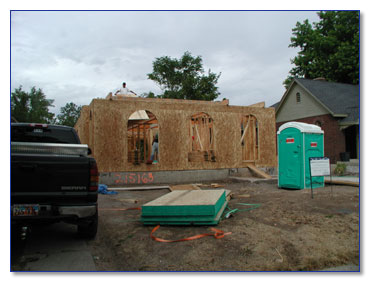 Front view of home in framing stage. If it looks like the original home, good! That was the intention.

This project will be taking on a complete new look. The new style will be Spanish/Mediterranean. Lots of exposed soffit beams will be used as can be seen in the garage photos. We have started with the garage construction in order to have an area for staging of the home construction. The main floor of the new home will be built on the existing foundation and will resemble the existing home exactly, eventhough the existing above grade walls will be taken down.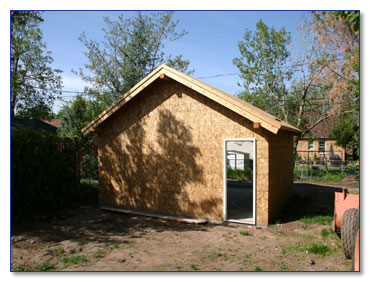 This photo shows the soffit style that will be used on the home. T&G decking will be applied under the roof sheathing with non-structural beams extending every two feet.

All of the vegetation is being removed and hauled off.

The roof system was the first part of the house to be removed.

Demo continues.

Demo continues.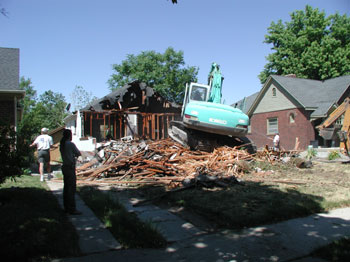 Demo continues

Front view (before)
North side view (before)
Back view (before)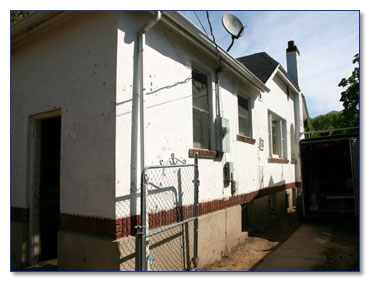 South side view (before)