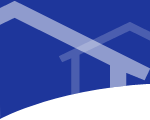 New shower with Kohler thermostatic control valve for pre-set temperature, seperate valves for water tiles (3), rain head (not shown), and handheld shower.

Glass tile backsplash with Kohler wall mounted faucet over vanity.

All exterior walls were framed with 2x2 studs and insulated with rigid insulation. Original floors were removed, plumbing and heating re-routed and finished with black slate floors.

Existing bathtub was removed and the tub area (5' by 2') was widened to 3' for a more spacious shower.

Photo showing widened framing area to become shower.