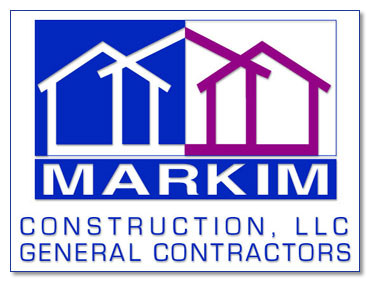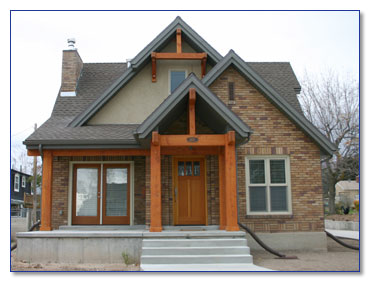 View at completion.


View at completion.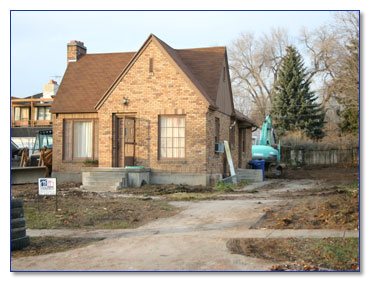 Existing garage has been removed to accomodate the home addition. The old brick and block garage has been torn down and a new 22' by 28' garage with attic storage will be built in the next couple of weeks.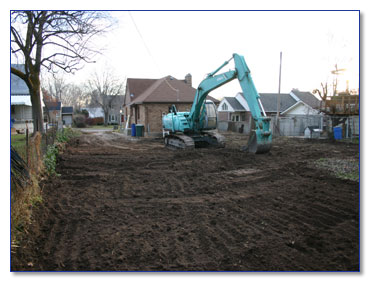 All of the trees and shrubs have been removed for ease of excavation. The interior of the home has been cleaned of all the old lath and plaster. The basement has been gutted in order to cut the concrete floors for new plumbiing and wall relocation.


Garage footing, foundation,and flatwork are complete. Walls have been completed and the trusses are being put in place.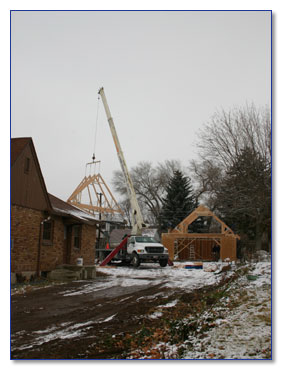 Another view of the trusses being placed. The trusses were designed for an attic area storage room. This room will be 13 feet wide by 28 feet long. The hieght of this room will be just over 8 feet. A full size stairway will be built in the rear area of the garage. The ceilings on the main floor of the garage are 9 feet high.

Excavation for new addition is underway. This new area with consist of a family room with fireplace, a new bedroom, bathroom, and a new stairway. We will cut a hallway passthrough in the existing foundation as a transition to the original basement space that will be finished as well. The original basement area will have a bedroom, bath, laundry and mechanical rooms.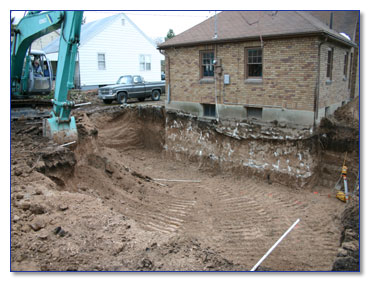 Another view of the excavation area.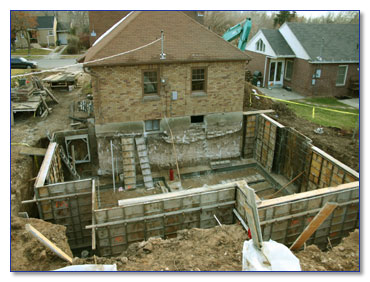 Footings are complete. Existing foundation wall between basement windows has been cut and is ready to be removed. Foundation forms are being placed for new foundation walls. 1/5/05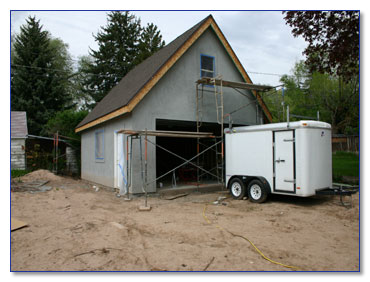 Base coat of stucco has been applied.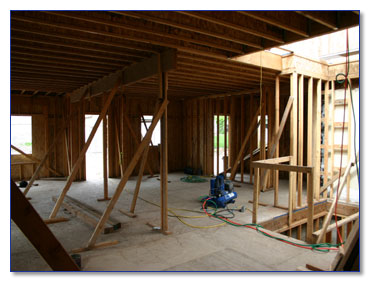 Interior view of the rear addition where the kitchen, family room and dining area will be located.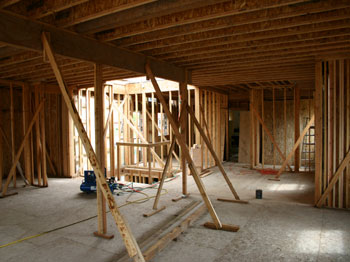 Another view of the future kitchen, dining and family room areas.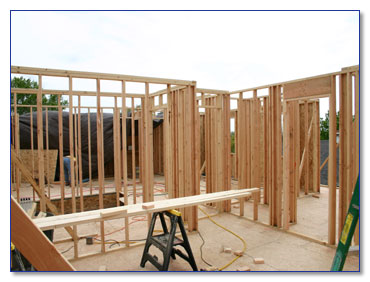 Upstairs framing underway. Picture taken in master bedroom.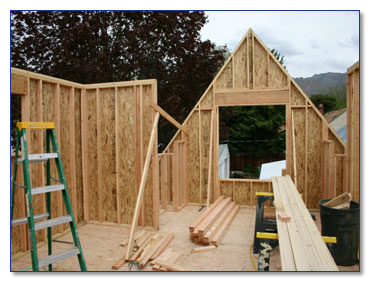 More upstairs framing. Master bedroom reading area.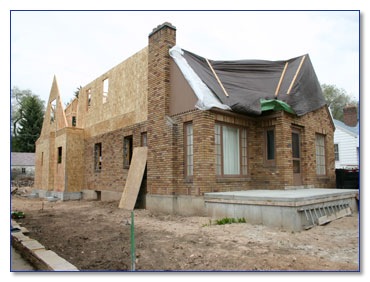 View from soutwest viewpoint.


View from southeast viewpoint.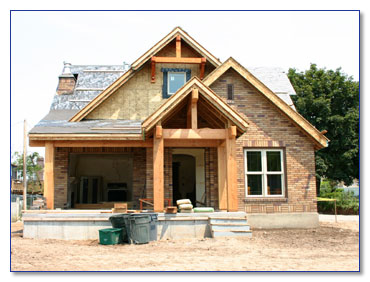 Front view.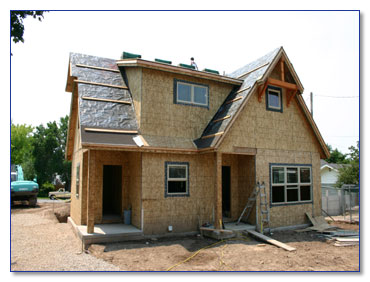 Rear view.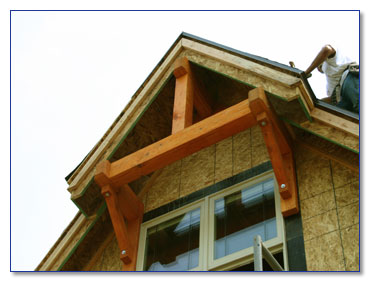 Exterior window detail.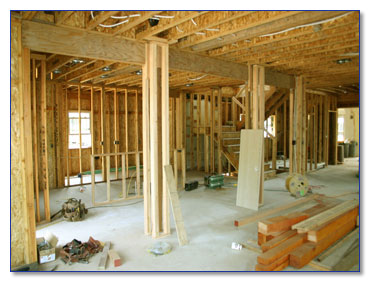 Interior family room & kitchen framing.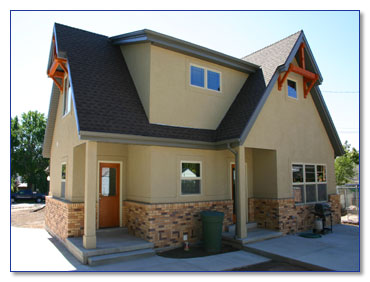 Rear view of completet home.


View of completed garage with full second story storage area.


Craftsman style entry door.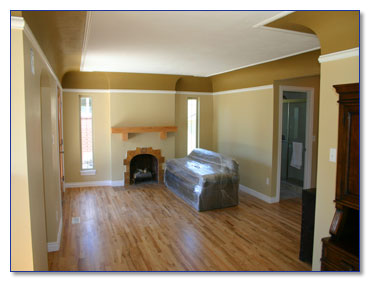 Interior view of living room. Coved ceilings are highlighted with moldings and darker paint.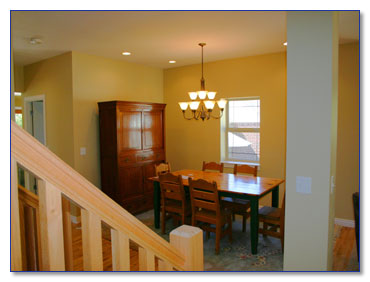 Dining room.


Great room


Basement family room (in new rear section).


Master bedroom.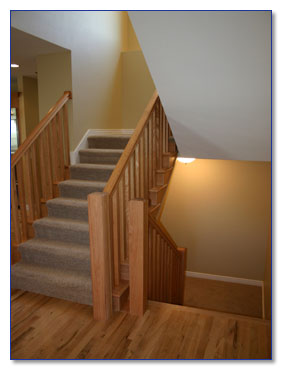 Both stairways going up and down are finished with oak treads, railings and ballusters.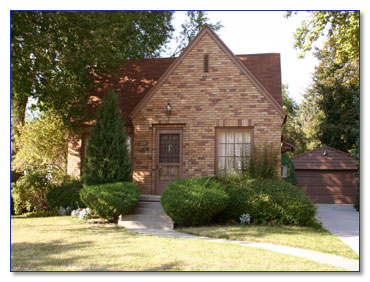 Front view (before)
Front/Side view (before)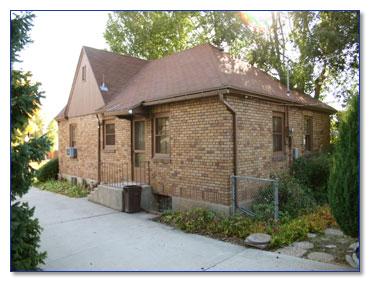 Rear/Side view (before)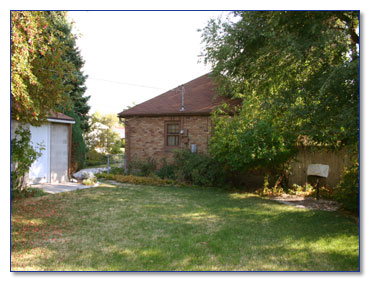 Rear view (before)